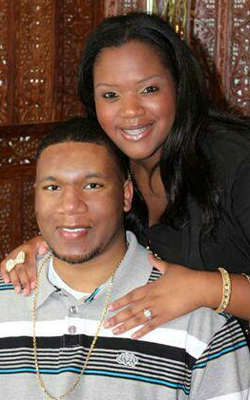 To Yah be The Glory Ministries is lead by Jakari Bryant Edmonds and his wife Lady TaRyn Edmonds they together have one son name Jakari Yiremayah Edmonds and one daughter, name Jakiyah Yenise Edmonds. Jakari Edmonds was born and raised in Denver Colorado, Born unto Nino Edmonds and Angela Bryant he is the youngest son with 4 brothers and one sister, and the youngest of six grand children to Bishop C.L and First Lady Bryant.. Raised in church all his life at an early age he became inspired by the teachings and preaching of his Grandfather Bishop C.L Bryant. He mimicked him preaching every Sunday sitting next to his Grandma Alvery Bryant preaching and repeating everything his Grandpa would say.
He got saved at the age of 8 years old and preached his first sermon at the age of 9 at the Progressive C.O.G.I.C called Jesus lives. He preached until he was eleven years old. At 21 rededicated his life back to Christ, and was filled with the Holy Ghost with the evidence of speaking in Tongues February 16, 2011.
He graduated from Arlington Baptist University in May of 2012 with a Bachelors of Science degree in Pastoral Ministry and Theology. He is also an ordained Elder in C.O.G.I.C . In May of 2017 he received his Chaplain certified Certificate at Baylor Scott & White where the sick are being healed, delivered and set free, people are being saved right in the hospital rooms.
Yah has done a mighty work in Jakari Bryant Edmonds, he has been prophesied to 16 different times that he is Yah's prophet for such a time as this and God himself has called him to prophesy his Holy word, preach is Holy Word and, Wake up the true people of Yah in these last and evil days to who they really are Ezekiel 37, Deut 28:68. In his ministry people are being saved prophesied to healed and delivered and set free from demonic oppression in the church and outside of the church and even on the job. The dead has been raised and an 83 year old woman completely healed off of her cane. Jakari Bryant Edmonds and Lady TaRyn Edmonds are submitted to the leadership of Bishop C.L and Alvary Bryant at Greater Gospel Kingdom C.O.G.I.C in Ft Worth Tx, 4401 S. Riverside Dr, 76119. Facebook Greater Gospel Kingdom C.O.G.I.C or visit www.ggkcogic.org
TO YAH BE THE GLORY MINISTRIES is a ministry that is dedicated to winning souls outside of the four corners of the Church and in the Church not just in words but in POWER. Our mission is to take the gospel around the world to the uttermost parts of the earth. We do not just want to take the gospel to lost souls in churches but outside of the church to help the orphans, drug addicts, child sex slaves, the rich, the poor, and all that is lost and does not know Yahawashi Ha Masiak as there Master and Savior. Also two other ministries lead by Jakari Bryant Edmonds are Soul Seekers Miracle Outreach Ministry were we are feeding the homeless every month reaching hundreds and thousands with the gospel street preaching giving clothes, shoes etc. Also we will have Throne room Tuesday's prayer line coming soon. Don't judge him by his age or by his statue but yet by the way God uses him.